Austrian Choir Heimatecho
The Austrian mixed Choir "Heimatecho" has been singing together since 1980 when a group of members of the Austrian-Canadian Society got together to rehearse some traditional songs for the Christmas party at the newly opened Austrian-Canadian Cultural Centre. Over the years 30 singers joined the choir, which performs at various club functions and also sings at senior homes and hospitals. New singers are always welcome to join the choir. Rehearsals are on Thursday evenings at 7:30 p.m.
For more information please call Frieda Foidl 403 246-0259.
Click for Heimatecho's 39th Anniversary celebration
Click for Heimatecho's 38th Anniversary celebration
Click for Prairie Saengerfest
Click for Heimatecho's 37th Anniversary celebration
Choir Report
Dear Friends and Members:
Happy New Year wished to all of you from our choir to you! We started our practice January 9th with very cold weather. All our members are proud and dedicated, and faithfully attend all our practices and performances with great spirit! A very special thanks you go to our choir director, Jeannie Park, who keeps us happy with new traditional Austrian songs and is never tired practicing with us.
The last year 2019 was very busy and eventful with us and I want to mention some of the performances we did: Heinz Franke 90th Birthday, Josie & Joe Janschitz 60th Wedding Anniversary, St. Bonifacius Kirchweihfest & Christmas Celebration, Arbor Lake, Trinity Lodge & Prince of Peace Senior Centres, Colonel Bencher for Kathy Maier, Austrian National Holiday, Heimatabend together with German Canadian Male Chorus, Summer BBQ. A special function was celebrated at the Austrian club for our Austrian consul, Nick Demiantschuk, and it was performed by the Austrian Ambassador Dr. Stefan Pehringer.
And of course at the end of the year we have our Christmas dinner with friends and family members, where we all enjoy the delicious food and have also recognize the support of our president Frank Meixner and the board of directors, who help us to keep our musical heritage from Austria alive. Lastly, we sang at the Wirth Institute in Edmonton, with different European choirs Christmas songs. The original "Stille Nacht" (Silent Night) by Franz Gruber is one of our favorite songs to share with everyone! The universal language of music brings us all together to practice every Thursday at 7.30 pm at the Austrian Club!
Sincerely,
Frieda Foidl
Saengerfest 2017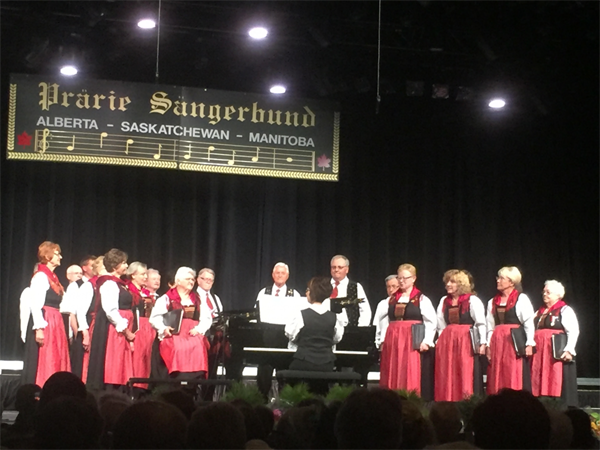 * * *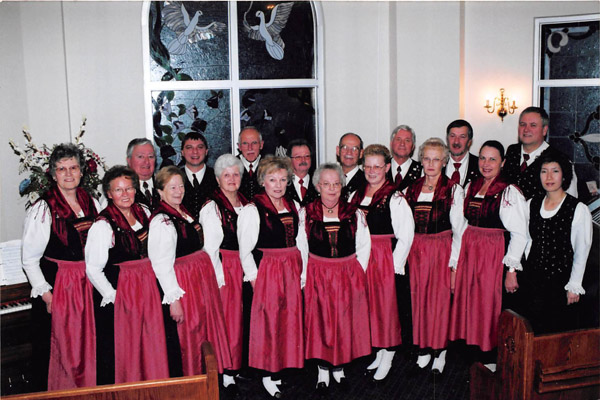 * * *