Austrian Choir Heimatecho
The Austrian mixed Choir "Heimatecho" has been singing together since 1980 when a group of members of the Austrian-Canadian Society got together to rehearse some traditional songs for the Christmas party at the newly opened Austrian-Canadian Cultural Centre. Over the years 30 singers joined the choir, which performs at various club functions and also sings at senior homes and hospitals. New singers are always welcome to join the choir. Rehearsals are on Thursday evenings at 7:30 p.m.
For more information please call Frieda Foidl 403 246-0259.
Click for Heimatecho's 38th Anniversary celebration
Click for Prairie Saengerfest
Click for Heimatecho's 37th Anniversary celebration
Choir Report
Dear Friends and Members:
Our choir started practicing again in September after everyone enjoyed the summer off.

We had to make a very sad announcement to make: Edith Jakob our long-time choir member for over 37 years passed away. Her funeral was in September and our choir was able to contribute by singing songs at the funeral home Chapel of the Bells. Our deepest and sincere sympathy to all her family members, she will be in our heart forever!

Our first performance was on 11th of October at the Fountain of mission, where we as proud musical ambassadors, singing traditional Austrian choral music. On October 26th we performed at the Austrian Club, the Austrian Anthem and some other songs. The Austrian Konsul Nickolaus Deminiantschuk was present and brought us greetings from Austria as well.

On November 8th we will perform at the Silvera seniors center, where one of our choir members, Joe Ruckenthaler is living now. The next performance will be at the Golf & Country Club Gala on November 24th. At our Christkindlmarket, November 25th we will honor the famous Christmas song: Stille Nacht (Silent Night)", which was written 200 years ago this year.

December 6th we will sing at the Dulcina Hospice. Sunday December 9th we will perform at the Wirth institute in Edmonton at the U of A.

Choir Heimatecho & friends have set December 13th as the annual Christmas dinner to celebrate the season with delicious food and music. A special thank you to our choir director, Jeannie Park who is never tired of practicing with us! Also, I like to thank all choir members who faithfully attend our practices and show great enthusiasm!

Our Choir Heimatecho wishes everyone for the holiday season the music of laughter and warmth of friendship! Merry Christmas & Happy New Year 2019!
Sincerely,
Frieda Foidl
Saengerfest 2017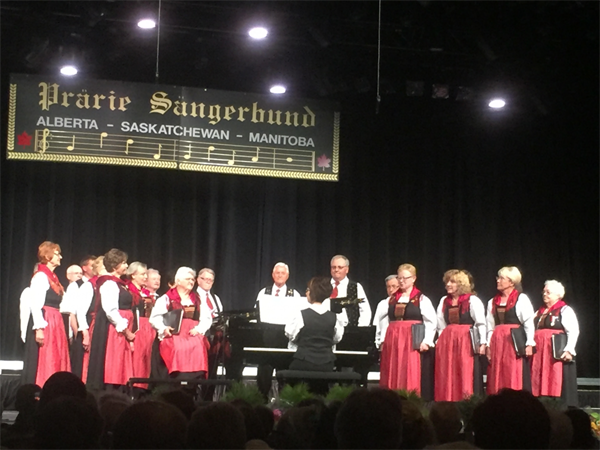 * * *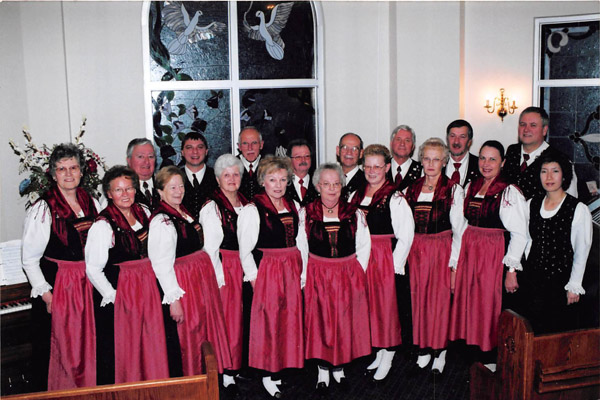 * * *