Austrian Choir Heimatecho
The Austrian mixed Choir "Heimatecho" has been singing together since 1980 when a group of members of the Austrian-Canadian Society got together to rehearse some traditional songs for the Christmas party at the newly opened Austrian-Canadian Cultural Centre. Over the years 30 singers joined the choir, which performs at various club functions and also sings at senior homes and hospitals. New singers are always welcome to join the choir. Rehearsals are on Thursday evenings at 7:30 p.m.
For more information please call Frieda Foidl 403 246-0259.
Click for Prairie Saengerfest
Click for Heimatecho's 37th Anniversary celebration
Choir Report
Dear Friends and Members:
A Happy New Year to all of you, from our choir members. 2017 has been an eventful year for the choir Heimatecho. On December 10th the German Canadian Male Choir had their Advent Concert at St. Bonifatius Church. Our Choir was invited to sing at this event with them. It was a beautiful musical treasure on an Advent Sunday which the audience enjoyed, singing along at the end.

Thursday December 14th our choir had the Christmas dinner for members and friends at the Austrian club. Special guests were Annemarie Juravel, President of the German Canadian Association of Alberta, as well as Frank, President of the Austrian Club and Helga. We all enjoyed delicious food and sang together traditional Austrian Christmas songs which had brought us all into the seasons spirit.

On December 18th, we had a very special request from Maria Steinborn to sing for a long-time choir member Mathilda Mick at Dulciana Hospice in the NW of Calgary.

Together with our director Jeannie Park we fulfilled this special request. Mathilda was able to sing with us and it was an enjoyable afternoon filled with traditional Austrian music.

Sadly, Mathilda passed away shortly after and on January 5th, 2018 our choir sang songs at her funeral at Fosters Garden chapel. She will be always being missed and always remembered. A big THANK YOU to Maria Steinborn and her generous support.

Also thank you to our choir members for faithfully attending all our practices and performances. A special thanks to Jeannie Park for her relentless teaching giving us confidence and keeping us focused on our singing.

Every Thursday we are looking for new singers, come and join us- music brings people together.

We are looking for a great year 2018!
Sincerely,
Frieda Foidl
Saengerfest 2017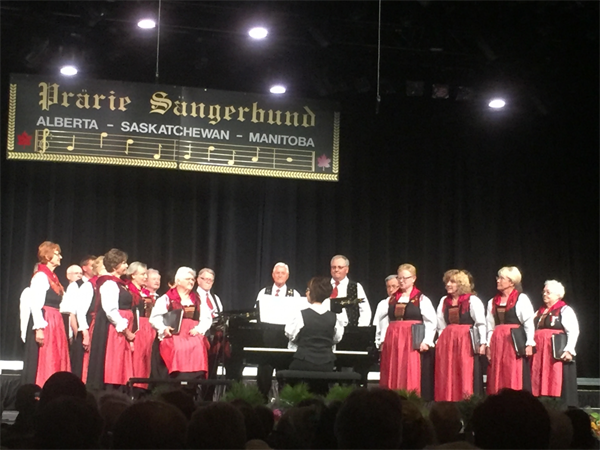 * * *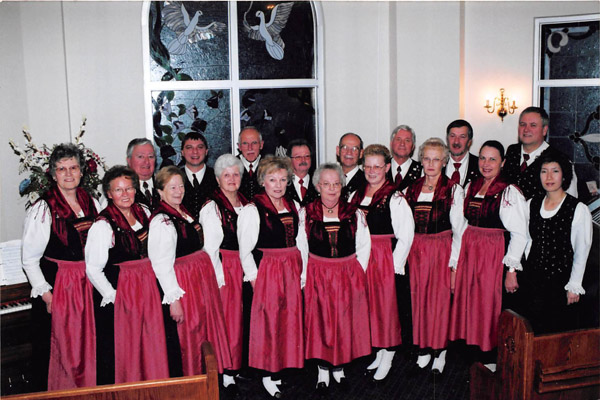 * * *